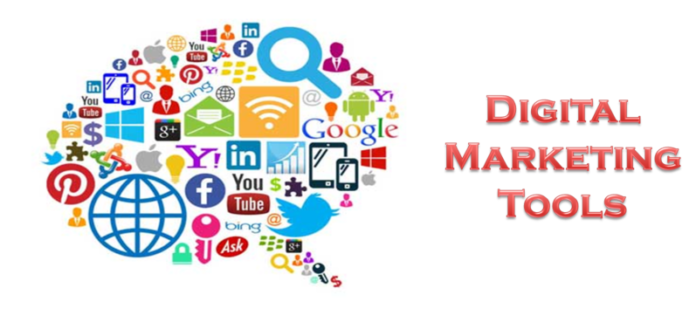 The use of any resource linked to the internet to reach your customer is, in fact, digital marketing. It helps you gather a new audience, expand your business, help you garner new sales, and most importantly delivers your business idea to people at the comfort of their homes.
Some of the top marketing tools that you should know about if you are interested in digital marketing are:
Hubspot
Hubspot is widely used as the customer relationship manager and content management system. It is also famous for blogging, email marketing, to build landing pages and social media. It provides you with the ability to design, build, host, and modify a website. Hubspot academy offers a large set of certification courses that will help you learn about growing your marketing strategy. You can view all the important KPIs in each tool's dashboard. Hubspot mainly works on the concept of inbound and content marketing.
SEMrush 
It is said to be an all-in-one digital marketing tool. The tool provides almost everything one can ask for in the digital marketing world like keywords search, position tracking, and identifying backlink opportunities. SEMrush can be used to perform a detailed SEO (search engine optimization) audit. It also works by identifying the competitors and their top content, identifying your top ranking keyword, explore new ways to monetize your website, see the breakdown of your competitors and find high-quality link-building opportunities for your business.
Moz
Moz offers a wide range of free and paid search engine optimization tools. By using Moz, you can effortlessly perform page analytics, keyword search, backlink analysis and it also works as a great site crawler. It also has a chrome plug-in that can provide instant metrics for any given page. That said, the tool works on its own version of the classic PageRank algorithm used by Google. Moz calls it MozRank and is ranks based on the other pages a page is linked to. The higher the MozRank of the linked pages, the higher MozRank will be received by those pages.
BuzzSumo 
This is a research and monitoring tool, mostly focused on social media management, and provides help in identifying trends on a variety of topics. The tool is famous for helping the users in generating unique social media ideas and blogs. It monitors your brand performance, provides with creating high-performing content, and identifies influencers you may want to partner with. The greatest advantage of this tool is that it encourages you to watch out for your rivals. BuzzSumo works on the basis of several data sources like social networks APIs, Moz, Google page rank and RSS feeds to collect data.
HootSuite 
It is an enterprise-level tool for social media management that allows users to store and schedule social media content on a variety of platforms. This tool can help you track the performance of your social media content, ROI, track public conversations about your brand, product, and service, and calculate conversions. It uses the AutoSchedule smart algorithm and Auto-post algorithm for its effective working and saving time of the users.
Canva Business 
This tool lets you create images using multiple options from the Canva catalog like photos and a variety of shapes, icons, and fonts. The tool is based on drag and drop designs that let you design appealing and pleasing logos, presentations, graphs, etc. This tool focuses less on the analysis side of digital marketing and more on aesthetics. Canva business helps you make your website and/or social media visually appealing so that you can gain more viewers or followers. It is something that helps you improve the non-technical side of your work.
Ahrefs 
It is a comprehensive SEO tool that helps you analyze your website traffic in detail. The tool is best for comprehensive analysis that enables the user to monitor who is linking with their competitors, what are the top pages and ranks of their content. By using the Content Gap tool from Ahrefs, the user can identify the weaknesses and gaps in their content. Another tool, namely TopPages, lets you see the pages with the most traffic. The tool keeps coming up with new features and hence known as a very robust tool.
Proof
The proof is a very efficient tool to boost conversions to your site. The tool connects to your customer relationship manager or your website and implements social proof messaging, user count, reviews and videos that specifically target your audience once they visit your website. You can classify your regular users and monitor their journies that will let you design better in the future for higher conversions.  The live visitor count feature helps the viewer get a rough idea of your business and how trendy it is.
YOAST
This tool provides the user with the help needed to optimize the content for search engines. It functions well with both Gutenberg and the Classic editor in Word Press. YOAST also helps you choose high-quality content, help you gain rank by choosing keywords that are more searched and trendy. For an additional boost, it helps in finding individual content URLs and internal links. The tool's algorithm is reflected in Google's algorithm every two weeks so that it is always up-to-date.
Survey Anyplace 
As the name tells us, the tool is mainly based on surveys. The tool reflects your brand on surveys and lets you build your own surveys to help understand the audience you are targeting. You can form the survey as you like and include questions according to your business and though the process. Their surveys are easy to understand, simple, efficiently designed, and user friendly. The quality and amount of feedback you get by a survey is directly dependent on the friction points of a survey the easier it is to complete a survey, the more productive it will be. You can also include images in your surveys according to your need.
Google Analytics
Google Analytics is a must-have for anyone that is in the digital marketing field. You can monitor how your customers are engaging with your website if you use this tool to its fullest. It seems a little bit too complicated to use at first but can prove very beneficial for your digital marketing strategy. It has a very simple working structure. Its tracking operation retrieves data about the page requests through multiple means and sends it to the analytics server. This helps you better understand your customer, enables advanced website tagging and management through the strategic use of triggers.
Final Thoughts
From all of the tools and their working, we can conclude that all of these digital marketing tools involve monitoring either the customer's activity or the rival's activity to better design your website and keep your business trendy and up-to-date. Without some sort of marketing tools, your website will be just another site with few daily visitors but with digital marketing, you can boost your business by putting a very minor effort.