The smart band sector is really rich in alternatives proposed by the main technology producers and we often see new products that are reminiscent, at least in terms of proposed functionalities, of those already available on the market. The concrete step forward is a smartmand called Amazon Halo.
This device will offer the user functions that you will not find in any other smart band, below we will give you all the details about the new solution from Amazon.
Technical characteristics of Amazon Halo
Below is the full Amazon Halo datasheet :
| | |
| --- | --- |
| Battery | Up to 7 days (speech analysis disabled), up to 2 days (speech analysis enabled). Full charge in 90 minutes. |
| Waterproof | Resistance up to 50 meters deep (5 atm). |
| Colors | Black / Onyx, Winter / Silver and Blush / Rose gold |
| Strap size | Fabric: Small (135-155mm), Medium (145-180mm), Large (170-220mm), Sport: Small / Medium (130-180mm), Medium / Large (160-230mm) |
| materials | Fabric: Polyester, Nylon and Spandex, Sport: High Performance Silicone |
| | |
| --- | --- |
| Weight | Capsules: 18g, Band: 5.2 grams (S), 5.4 grams (M), 6.0 grams (L) |
| Bluetooth | Bluetooth 5.0. |
| Audio | 2 microphones for vocal analysis |
| Warranty | 1 year |
The new Amazon smartband is a fitness tracker , therefore it offers physical activity tracking that we know well from the other smartbands on the market, various types of workouts , sleep monitoring , heart rate detection through PPG sensors and temperature monitoring .
The device also offers water resistance up to 50 meters deep, without the GPS and Wi-Fi modules .
Emotion Detection and 3D Body Scan
The step forward in the future of Amazon , however, is given by the integration of microphones that are not used for interaction with Alexa, which among other things is not supported, but for voice analysis to detect the emotional state of the user .
In fact, Amazon Halo allows the analysis of different characteristics of the user's voice, such as the timbre, to create an index related to the user's emotional state. This is not science fiction, in the scientific literature the field of speech analysis to estimate emotional state has been highly developed for some time.
The second absolute novelty proposed by Amazon Halo consists of body scanning in 3D, this aims to estimate and monitor body fat percentage over time and can be loading different images body to Amazon's servers.
Amazon agrees to completely remove the images once the 3D model is created .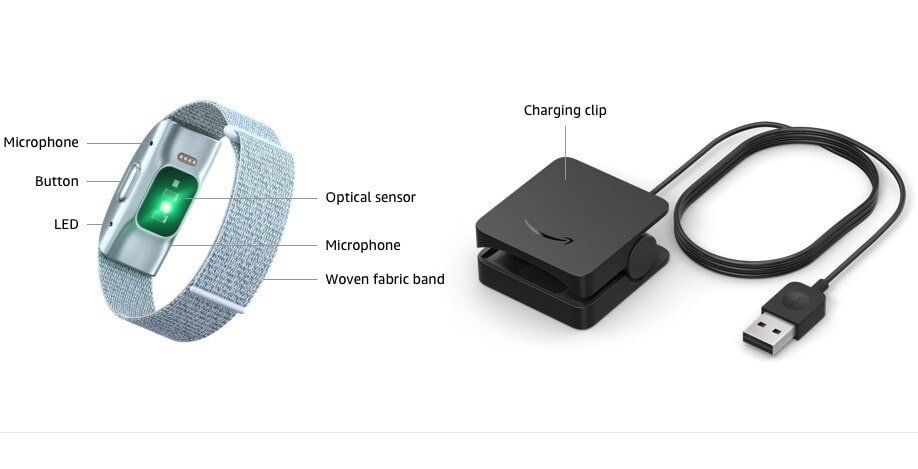 Departure and Price
Amazon Halo has been announced exclusively for the US market , where it is priced at around € 95 . Halo is available in the US exclusively by subscription, in addition to the purchase of the smart band, there is a subscription of about € 3.50 per month . It is currently unknown if its launch will also take place in Europe.