Streaming services began as a plug-in for DVDs and digital download offerings, with a stream of movies and TV shows. They were supplements to the programs you saw in its first (and second) cable TV broadcast. But faster Internet connections and an abundance of streaming devices have accelerated the decline of traditional cable. More and more viewers are cutting the cable entirely , in favor of streaming services.
Before we tell you which streaming services are the best  you should check you internet connection and make sure you have what it takes to watch your favorite streams without lag.
Here we tell you which are the best.
Netflix
Netflix is ​​the standard bearer for streaming. It houses an impressive selection of content, with new titles replacing older ones monthly. We also have the ever-growing Netflix original programming library, which still beats any other streaming service.
Netflix's impressive catalog includes shows like Altered Carbon, Black Mirror, Bojack Horseman, Dead to Me, Mindhunters, Orange is the New Black, Russian Doll, Stranger Things, The Crown, The OA, The Umbrella Academy, The Witcher and Unbelievable. Unfortunately, Netflix has lost major titles like Friends (which will soon be on NBC's Peacock) and will break away from The Office (thanks to HBO Max).
In addition to its original movies, like El Camino: A Breaking Bad Movie and The Irishman, Netflix also currently offers the highest-quality movies of any streaming service , dwarfing competitors like Hulu, Amazon Prime Video, and HBO.
Hulu
Hulu impresses as one of the best all-in-one options for those who are ditching the cable, given its diverse set of streaming options . In addition to a solid library of classic shows and a good selection of movies, Hulu offers an excellent choice of live TV (more than 60 channels of news, sports and entertainment programming).
Still, Hulu lags behind major competitors , given its low original content and limited selection of 4K content. Under a deal, FX will premiere new seasons of original shows on Hulu, in addition to adding current and past show seasons to the platform.
YouTube TV
YouTube TV offers an excellent selection of live sports and news channels , as well as many popular entertainment options. Some of the major networks available include ABC, AMC, CBS, CNN, ESPN, Fox, FX, and NBC . In addition to this, it now features Discovery and ViacomCBS network channels .
If the library of over 80 YouTube TV channels still doesn't meet your needs, you can also add other packages, such as Acorn TV, NBA League Pass, HBO Max, Showtime, and Starz to your subscription .
With YouTube TV, you get unlimited cloud DVR storage . A YouTube TV membership supports up to six accounts , so you can share with other people, although you should know that it only transmits from three accounts simultaneously.
YouTube TV apps look and work great on a variety of platforms, including Amazon Fire TV devices. It is also available on PlayStation 4. Its search tools and robust performance make it one of the best cable replacement services for general audiences . You should make sure that the service is available at your location, before considering it as an option.
Amazon Prime Video
Amazon offers access to your video content in two ways: A standalone Amazon Video subscription or an Amazon Prime subscription . Subscription to Amazon Video only includes access to the Amazon streaming library, while an Amazon Prime account includes Prime Video content and a ton of other shipping and purchasing benefits.
In recent years, Amazon has focused on directing high-quality original shows such as Bosch, Catastrophe, Fleabag, Hunters, Tales From The Loop, The Man in the High Castle, The Marvelous Mrs. Maisel, Patriot, The Boys, The Expanse, The Grand Tour, Undone and Upload.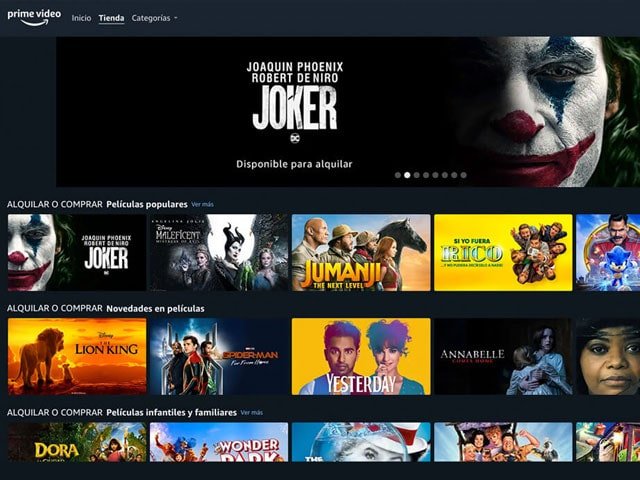 Many of these shows are great and on par with Netflix's offerings , though the latter has a much deeper content library. Prime Video also features the best shows from other networks, including HBO, at no additional cost, though you can add a Prime Channel subscription to your account for full access to HBO, Starz, Showtime, CBS All Access, and Cinemax libraries .
Amazon's video library also includes many popular movies at no additional cost. Users also have the option to buy or rent movies and TV shows, similar to Apple's iTunes, Google's Play Movies and TV shows, and the Movies & TV section of the Microsoft store.
Prime Video supports 4K and HDR, as well as downloads for offline viewing . The Amazon streaming service works in a web browser, as well as on Android and iOS devices, Fire devices (TV, TV Cube, TV Stick, smartphones and tablets), game consoles (PlayStation, Xbox and Wii), smart TVs and televisions. conventional.
Disney +
Disney + packs a ton of Disney media properties, including Pixar, Marvel, Star Wars, and National Geographic , into a full-featured streaming service. In addition to classic Disney content, you can also watch originals like Encore !, High School Musical, Prop Culture and more.
Upcoming original productions include Loki (and several other Marvel titles), Monsters at Work, and Timmy Failure.