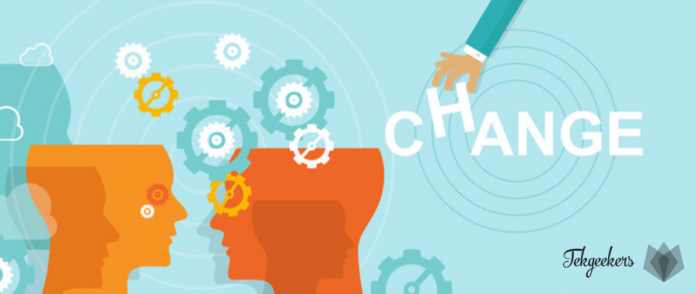 No company can afford to be idle against time. They will have to change something somewhere to be in line with the trend and also to be able to serve the ever-changing needs of the customers.
As an organisation, your service process will always face new challenges. What should you do isn't the only question? How you chose to do it is essential too. Are you going to hire an expert, talk to your employees about the upcoming Change or invest in a tool to help the Change ease into the organisation? Whatever it is that you chose, please have a plan.
This is where change management comes into play. It's a methodical strategy that guarantees changes are thoroughly and seamlessly implemented – and have the desired impact.
In this post, we will discuss how to implement excellent and productive change management strategies in your organization by utilizing four fundamental concepts of successful change management.
The Four Change Management Principles are:
1. Recognize Change.
2. Plan Modification.
3. Bring about Change.
4. Change must be communicated.
The most realistic effect of Change is that it doesn't happen in isolation. The entire organization and every level of employee are affected directly or indirectly. A well-planned change management strategy has the ability to control the effects.
Whatever tools you use, the following stages come in handy in implementing effective Change:
• For everyone involved- Ensure that modifications about what is required and what it means for them are understood.
• The change management can only be a success if improvements can be recorded and compared to previous data. Hence ensure that changes and results are measured and reported regularly.
• Make a list, notify and map all of the crucial stakeholders with their level of involvement and their role in the Change.
• Often, changes in an organization are implemented through training to determine if it's needed.
• Assign executives as change agents who will help ease the Change into the existing system. They need to be encouraging and come about as role models who can handle changes like a pro.
• People's habits are most affected by change; hence try to blend old with the new.
• Transition period can be challenging for anyone; hence support yourself and others during it.
There is a 5-point evaluation checklist:
Methodology Structure: yes, change management is a structured process (while some still find it hard to believe!). The human elements of Change are adapted into a business model to ensure that the project management team gets to touch all squares minus the wild guesses. It is not just a tool and template game!
How flexible is it? If you thought that every organization has a linear approach and the common tools can solve the change management crisis- you, my friend, are wrong. Implementations can be unpredictable, so the tool used to scale the change management should be flexible. Rather than a what-to-do list, you need at the moment assessments.
Is the framework provide roadmaps or algorithms for various situations? Okay, so, if you thought it would be a click on/off thing, it isn't. change management is more of a principle rather than a step-by-step process. At times you don't apply every step of the change management, but at times it is a repeatable process. This involves judgment as to what tactics and strategies are needed. It is more of a situational-based approach rather than a one glove fits all technique.
Does the adopted methodology address systemic changes? Does your change management policy address complex situations as easily as simple ones? Complex situations like cultural shifts, mergers, acquisitions, etc., also need a change management framework in which all the key leaders of every group are included.
Does your methodology support conceptual thought processes, or is it just business-oriented? Some tools are more humane in nature and work around the process of getting individuals on board, discuss changes and implement the positives. These steps ensure business growth, but some tools don't support the implementations. Every business needs-
1. On time application of ideas
2. Budget-friendly optimizations,
3. Well-defined business objectives,
4. Human touch, and
5. Technical know-how.
Change management could be the sophisticated way of telling your employees that laid-back days are over, time to roll the wheels under the chairs, and get the business into action. Results should speak volumes about the change management positives.
Mirat could be the complete package you are looking for to run the business dailies and more. Check us out at https://www.mirat.ai and with our sincerely affordable pricing details listed on the site, our transparency is henceforth proved.